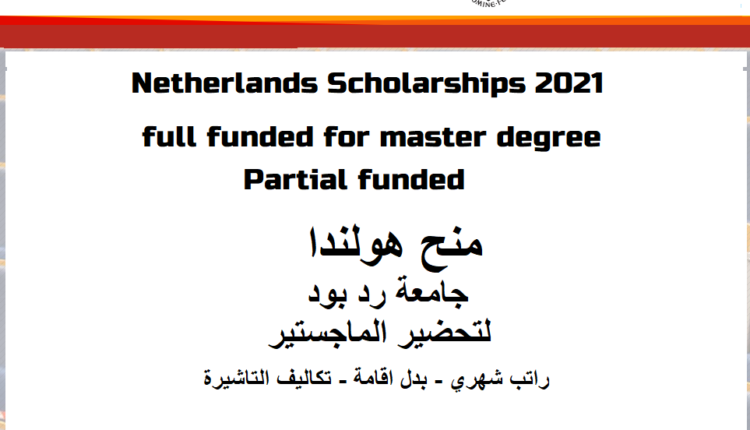 Netherlands Scholarships 2021
About University:
Radboud University was established in 1923 AD and it is one of the 150 best universities in the world. The current ranking of this university is 104 in the Shanghai ranking.
Host country: The Netherlands
Donor: Radboud University
Types of permanent scholarships: fully funded scholarships and partial scholarships
Academic stages: Masters
There is no specific age for applying to the scholarship
All students from all countries of the world can apply for this scholarship
Deadline to apply for the scholarship: varies from one major to another
Available majors:
· Anthropology and Development Studies
· Artificial Intelligence
· Arts and Culture
· Behavioural Science (Research)
· Biology – including Transnational Water Management
· Biomedical Sciences
· Business Administration
· Cognitive Neuroscience (Research)
· Computing Science
· Economics
· Environment and Society Studies
· Historical, Literary and Cultural Studies (Research)
· History
· Human Geography
· Information Sciences
· International and European Law
· International Business Communication
· Linguistics and Communication Sciences (Research)
· Linguistics
· Mathematics
· Medical Biology
· Molecular Sciences
· Molecular Mechanisms of Disease (Research)
· North American Studies
· Pedagogical Sciences
· Philosophy (Research)
· Philosophy and Science
· Physics and Astronomy
· Political Science
· Psychology
· Science
· Social and Cultural Science (Research)
· Spatial Planning
· Theology
Scholarship benefits:
Fully Funded Scholarships:
Covers all tuition costs (which amount to € 15,000)
Availability of living costs
Covers visa costs
Provide you with accommodation
Provide you with health insurance
Partial scholarships:
The partial scholarship offers you a discount on tuition costs at Radboud University in the Netherlands
Covers visa costs
Provide you with accommodation
Provide you with health insurance
Required Documents:
passport copy
Biography
Personal speech
University Graduation Certificate (or graduation certificate for students who have not yet obtained a graduation certificate)
Transcripts
English language proof certificate (you can apply for the scholarship without a language proof certificate, but you must send a language certificate after acceptance if it is one of the requirements)
Recommendation letters
Note: All the above-mentioned papers must be translated into English.