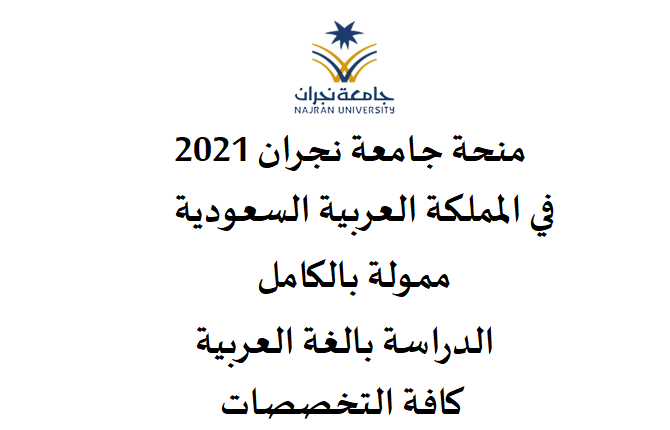 Najran University Scholarship 2021 in the Kingdom of Saudi Arabia | Fully funded
About:
The University of Najran, in the Kingdom of Saudi Arabia, announces a paid scholarship for international students from outside the Kingdom of Saudi Arabia to study the bachelor's level in all disciplines offered by the university.
Specializations available in the scholarship:
Faculty of Engineering
Faculty of Computer Sciences and Information Systems
Faculty of Science and Arts
College of Sharia and Fundamentals of Religion
Faculty of Languages and Translation
Faculty of Administrative Sciences
College of Education
Community College
Note: Acceptance is in all specialties except for health specialties.
■ Financial financing and scholarship advantages:
1- Full exemption from tuition fees.
2- Free housing
3- A monthly stipend
4- Travel costs
5- Health insurance
6- Accommodation costs
■ documents required to apply for the scholarship:
A certificate of absence of precedents from the security services in his country.
A clear copy of a valid passport.
A clear copy of the high school diploma.
A statement that he is fluent in spoken and written Arabic.
■ Eligibility criteria and application requirements:
The admission requirements that apply to Saudis in higher education institutions are applied to external scholarship students, except for the condition of ability and achievement.
The student should not be less than (17) years old and not more than (25) years old for the bachelor's degree. The student should not have previously obtained a scholarship from an educational institution in the Kingdom.
That the certificates and supporting documents be attested by the competent authorities in the student's country, as well as the embassy in the student's country.
He should not be dismissed from one of the educational institutions in the Kingdom.
The scholarship student has no right to change his major after being accepted into a specific major.
He must be with the student who is forbidden, according to the instructions regulating that, provided that he is covered by a grant or has a regular residence, or he is on the register of an employer in need of his services.
The student must pass the medical examination determined by the university.
That the government of the student's country approves the scholarship to study in the Kingdom for countries that require it for Saudi students.
The applicant must be fluent in spoken and written Arabic.
How to apply for the scholarship:
Fill in the following boxes on the site on the first page
Please select the type of scholarship to begin the application
Type of Scholarship (External Scholarship)
Passport number
Type of study (Bachelor's)
1-The second page of account data on the site
(Passport number – password – confirm password – email – confirm email)
2- Basic student data
(Student's name in Arabic) (student's name in English)
First name- father- grandfather name- family-
Nationality – mother's nationality – phone – mobile – mobile confirmation – marital status – status a
-Title
Country – City – District – Street – Zip Code – Secondary Certificate Data
4- Data of an emergency person
The name of a person who can be contacted – kinship – address – phone – profession
5- Upload the required documents, taking into account the following:
Please download the files in PDF format.
The name of the file you want to download must be in English
The file size should not exceed 1 MB
You can enter the application portal via the following link:
Application deadline:
Applications are open from Sunday 21 February 2021 to Thursday 4 March 2021