Max Planck Summer Internship Program in Germany fully funded
About the institutes
The Max Planck Institute of Biochemistry and the Max Planck Institute of Neurobiology(link is external) are located door-to-door at the life science campus Martinsried. The working language at both institutes is English.
The Campus Martinsried lies at the outskirts of Munich, not far away from the Bavarian Alps.
country: Germany
level: Bachelor – Master – PhD
funding: fully funded
duration: ten weeks
Appling date: January 1st and February 15th, 2021 (24:00 CET).
language certificate: not required
majors of the Internship:
Biology,
Chemistry,
Bioinformatics
Biophysics
Neuroscience
related fields.
Who can apply?
We invite excellent and enthusiastic students with top grades from all countries to apply. Training should be in Biology, Chemistry, Bioinformatics, Biophysics, Neuroscience, and related fields.
The program intends to promote students early on in their careers. We welcome applications from bachelor (second year and onwards) and master students that have already gained some research experience during their studies.
Applicants need to be enrolled at university during the internship or have completed their degree in 2021. Please note that the program is highly competitive.
Funding and accommodation
This is a fully funded internship program. Successful applicants will benefit from the following:
Free student accommodation
A stipend of approximately 800 Euro per month
Reimbursement of travel costs to and from Martinsried, near Munich
documents required :
Curriculum Vitae (PDF file, max. 1-2 pages)
Transcript (record of study) and degree certificate for all completed degrees (if applicable)
Temporary/provisional transcripts for degree programs, you are currently enrolled in
Document qualifying for university studies (typically high school degree, Abitur, Matura or equivalent)
Letter of recommendation of one referee (see information below)
Letter of motivation (will be typed into the application form directly, no upload)
If an applicant's academic training was not in English or German, a language certificate (such as IELTS or TOEFL) is highly recommended
All information needs to be submitted in English or German. Please provide a respective translation if the original transcripts are in a different language.

Upon submitting your complete application, you will receive an automatic confirmation email.
Letter of recommendation
Applicants need to name and invite one referee through the online application platform. We recommend that you personally contact your referee before triggering the email invitation. Please keep in mind that applications lacking the letter of reference after the deadline for submission are incomplete and cannot be processed any further. Please ensure that the referee submits the letter of recommendation before the deadline.

You will receive an automatic confirmation email, once your referee has submitted the letter of recommendation.
The five steps to submission, schematic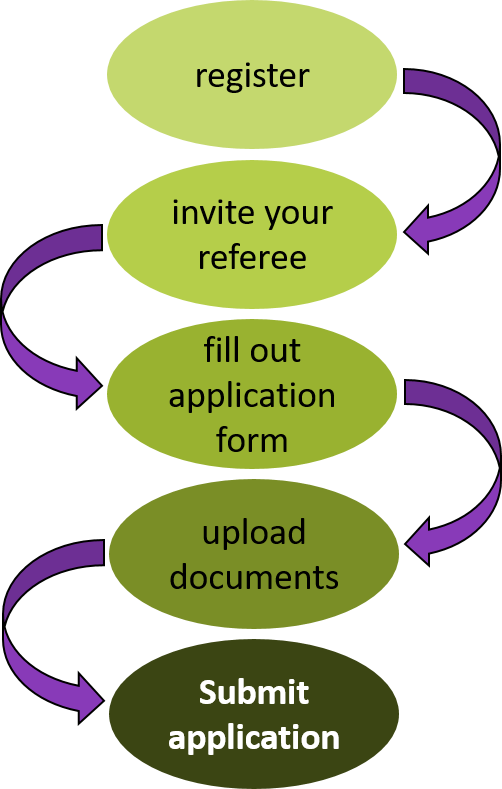 Deadline
is open between January 1st and February 15th, 2021 (24:00 CET).
Registration closes on February 12th. After your registration, you will be able to log in and upload your application files to the application platform.
how to apply :
The application platform has been activated and is open from January 1st, 2021 until February 15th, 2021.
Please register here. Registration is open until February 12th, 2021.
After registration and login, you will find the application form under "My Application".
If you encounter any problems or if you have any questions please contact [email protected](link sends e-mail). Please mention your application number and your full name in the email as a reference, so we can find your application form in our database.
official website:
follow link