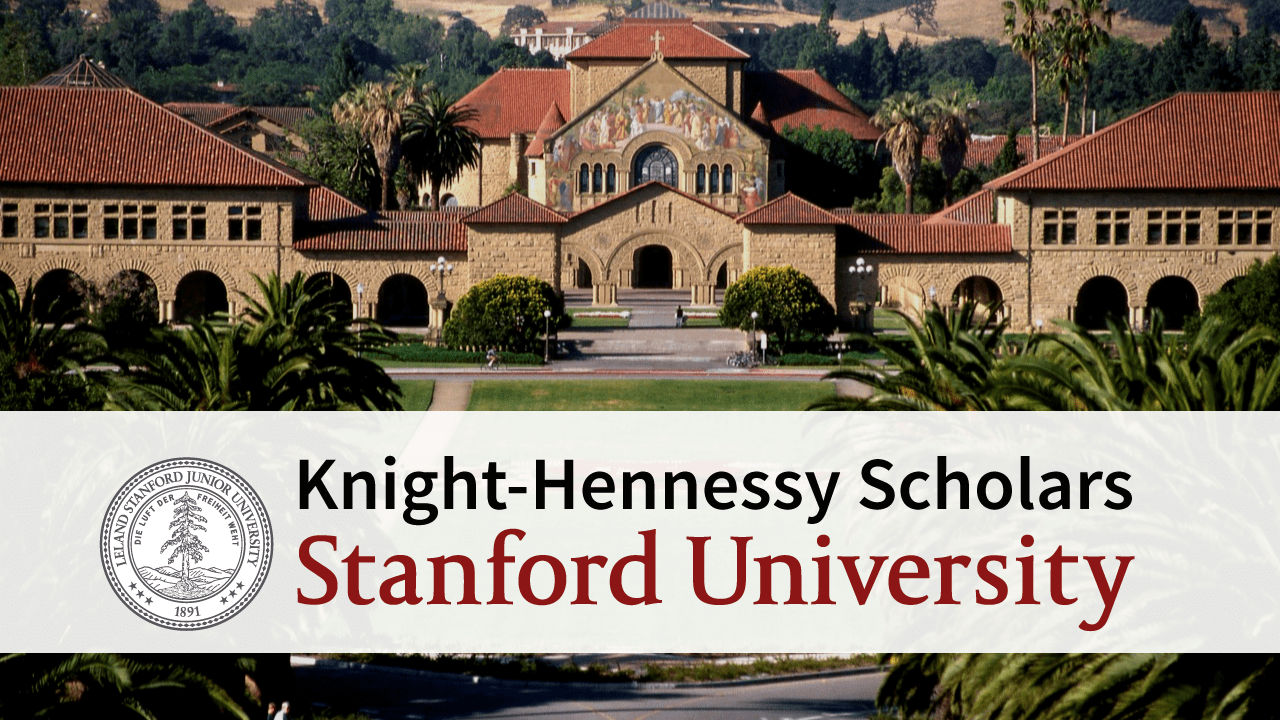 STANFORD UNIVERSITY SCHOLARSHIP PROGRAM 2021 IN USA – FULLY FUNDED
Call for applications for fully funded Stanford University Scholarship Program for 2021. 100 Students (National & International) will be getting fully funded Scholarships to study Masters, Ph.D., MS, MBA, MFA, MD, JD degrees at Stanford University.
Knight-Hennessy Scholars develops a community of future global leaders to address complex challenges through collaboration and innovation.
Every year, up to 100 high-achieving students from around the world will receive full funding to pursue any graduate degree at Stanford, including the JD, MA, MBA, MD, MFA, MS, and Ph.D. programs, as well as all joint- and dual-degrees.
Knight-Hennessy Scholarship Program in the United States is a magnet for talent. They curate a multidisciplinary community of scholars, offer a platform for purposeful leadership development, and empower you to effect large-scale positive impact in the world.
About The University
Stanford University was founded in 1885. It is a place for learning, discovery, innovation, expression, and discourse. Stanford has changed with the world over the last 125+ years, often leading the way with new ideas and discoveries. Stanford University is one of the world's top universities.
STANFORD UNIVERSITY SCHOLARSHIP PROGRAM DETAILS
COUNTRY: United States of America
HOST UNIVERSITY: Stanford University
COURSE LEVEL: Fully-funded US Scholarships to study Masters, Ph.D., MS, MBA, MFA, MD, JD degrees at Stanford University
SCHOLARSHIP VALUE
Funding includes tuition, stipend, graduate program, and related academic expenses, with additional financial support available.
ELIGIBILITY CRITERIA FOR KNIGHT HENNESSY SCHOLARSHIP 2020
Are you a potential Knight-Hennessy Scholar at Stanford University? Below is a general listing of the eligibility factors.
They encourage applications to Knight-Hennessy Scholars from residents of all countries.
Any Academic Discipline in any of Stanford's Graduate Schools
You are eligible to apply to the Knight-Hennessy Scholars program if you are applying to enroll in a full-time graduate program(s) at Stanford (for example, but not limited to, DMA, JD, MA, MBA, MD, MFA, MPP, MS, or Ph.D.) or if you plan on pursuing one of Stanford's many joints- and dual- graduate degree options (for example, but not limited to, MD+PhD, JD+MA, MBA+MS).
You are eligible to apply to the Knight-Hennessy Scholars program if you received your first/bachelor's degree in 2014 or later.
That Means:
You must have graduated from January 2014 through September 2021 to enroll at Stanford in autumn 2021.
U.S. military (active or veteran) applicants: You receive a two-year extension of eligibility due to longer service commitments.
You are eligible if you earned your undergraduate (bachelor's or first) degree in 2012 or later.
If you are still in college studying for your first/bachelor's degree, you are eligible to apply as long as you will complete your first/bachelor's degree before you enroll as a graduate student at Stanford.
REQUIRED DOCUMENTS FOR KNIGHT HENNESSY SCHOLARS PROGRAM
Online Application
Transcript
Standardized Test Score
One Page Resume
Two Recommendation Letters
Essays
Tow Short-Answer Responses
Video Story
In-Person Assessment
HOW TO APPLY FOR STANFORD SCHOLARSHIP PROGRAM 2021 IN THE USA
You must apply separately to the Knight-Hennessy Scholars program and to your Stanford graduate degree program.
You must submit all Knight-Hennessy Scholars application materials in English via our online application. They do not accept materials sent via email or postal mail.
We highly recommend that you apply using a current version of Google Chrome or Mozilla Firefox.
https://knight-hennessy.stanford.edu/admission/apply-now
APPLICATION DEADLINE
The deadline to apply for the 2021 Stanford University Scholarship is Wednesday, October 14, 2020, at 1:00 pm Pacific Time.